Founded in 1978, we have played an integral part in Vancouver Island's and the Gulf Island's renovation and construction industries. As the largest local vinyl window and patio door manufacturing plant on Vancouver Island, we are in a unique position to not only deliver locally-built custom made windows, but also to provide efficient and timely customer service.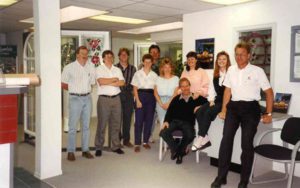 For over 4 decades the company has made many changes and grown significantly. In early days we manufactured single glazed aluminum windows. Today we manufacture both double glazed and triple glazed vinyl windows and patio doors. In order to facilitate our growth, over the years the company has expanded and renovated our Victoria factory and showroom. Today, we occupy a 35,000 square foot, state-of-the-art factory located at 404 Hillside Avenue in Victoria, which is also our original location. In peak seasons we will employ upwards of 80 people. We have actively been growing within all our Vancouver Island markets, with showrooms located not just in Victoria, but in Nanaimo and Courtenay/Comox as well.
We are also the pioneers of installation services as well, having installed our windows and patio doors since our inception. Our installations teams are highly experienced, with all lead installers having been with the company anywhere from ten to thirty plus years. Van Isle Windows is the only window manufacturer with a guaranteed on-time installation policy, and often a homeowner will be able to enjoy their new windows the same day work is commenced.
Selling to Vancouver Island and Gulf Island customers, the factory manufactures all of our products on a custom-fit basis. Windows and patio doors are built with the highest quality material. From the PVC vinyl extrusions, the glass, all hardware, right through either fiberglass, steel and aluminum supports hidden inside the finished frames, every unit is expertly designed to meet the demands of Vancouver Island's climate. We can also paint the windows in any colour you can imagine, from standard black and brown your custom colour choice is not a problem.
All windows manufactured by Van Isle Windows Ltd. carry a complete lifetime warranty on installed products. And because we manufacture our products on Vancouver Island, customers are able to deal directly with us, never needing to go through a third party.
For factory direct, high-quality windows and patio doors, Van Isle Windows Ltd. is your local choice.