We're Islanders, just like you!
From our factory in Victoria, Van Isle Windows has been manufacturing and installing windows all over Vancouver Island since 1978. We know how the wind blows down your street in November, and how the sun punishes your home in July. We listen for things like traffic and wind noise. We discuss the building and fire codes with you to make sure you, your children or grandchildren, and your pets are safe. We ensure you have the right window so that they become an enjoyable part of your life. And, when you trust us for your window project, your investment supports our Island economy.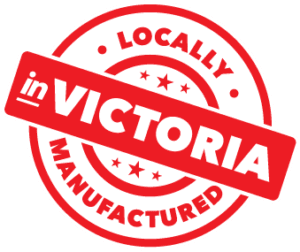 We have strong affiliations with these memberships.
Installations Services you can trust with our certified installations teams.


We've worked hard, and are proud of these awards.

We are believers in supporting our community.
We have been fortunate enough to be able to offer financial support to the following groups:
1Up Victoria Single Parent Resource Centre
Broken Promises Victoria Animal Rescue
Supporters of Pearson College
Jeneece Place
Highlanders FC (Soccer Team) – Season Sponsors
Vancouver Island Wave Soccer 99 Boys Boy's
Gorge Soccer/Lakehill Girls – Sponsorship for attending World cup In Japan and game play.
Habitat For Humanity – Regular Donations
Cowichan SPCA Annual Garage Sale
Top 20 Under 40
Victoria Open Golf
Victoria Curling Club
Victoria's Largest Little Airshow
The Mustard Seed
Living Edge Community
Society of St. Vincent DePaul
Goldstream Foodbank
Orca Gardens
Saanich Peninsula Lions Food Bank
Sooke Food Bank Society
CMS Food Bank
Cowichan Valley Food Basket
Loaves and Fishes Community Food Bank
Comox Valley Food Bank
Mount Arrowsmith-Salvation Army
Campbell River & District Food Bank
Salt Spring Island Harvest Food Bank
Nourish Cowichan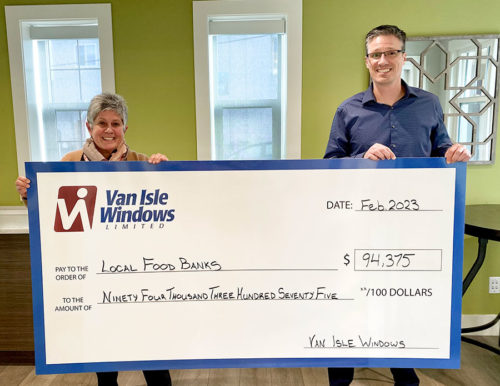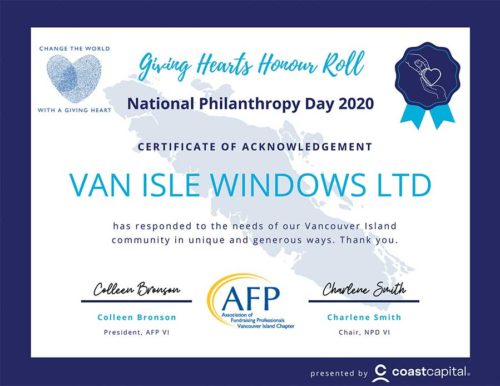 Giving Hearts recognized our food bank donations to The Mustard Seed, Living Edge Community, Society of St. Vincent DePual, CMS Food Bank, Comox Valley Food Bank, Loaves and Fishes Community Food Bank and Sooke Food Bank Society.